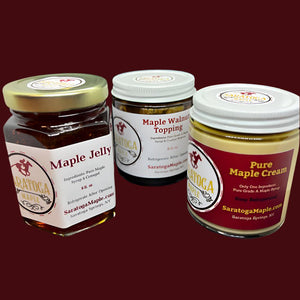 Maple Spread Gift Box
Need a great gift set for someone who loves maple?  Our maple spread gift box has three unique maple treats that are sure to delight!  
This maple syrup gift has maple butter, maple jelly, and maple walnut topping.  Even the biggest maple syrup fans haven't tried at least one of these. 
Our maple jelly is a real treat as the J in a PBJ and it also makes an amazing glaze on salmon or burgers.  Maple walnut topping is amazing on ice cream, spread on a bagel with cream cheese, or drizzled on a muffin.  If you have ever had wet walnuts in syrup, imagine those made with real maple syrup!
Maple butter is the final spread in the box and there isn't much better to be said about it.  Its nothing but 100% pure maple syrup, heated and whipped until it gets a creamy spreadable texture.  This delight is also called maple cream and it's something that people ask for year after year.
Order for pickup or local delivery in a gift bag or it easily ships anywhere in the U.S. with crinkle cuts.
Contains: 8oz Jar of Maple Jelly, 8oz Maple Butter, 8oz Maple Walnut Topping