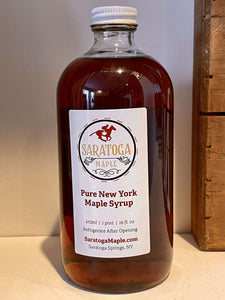 1 Pint of Maple Syrup
Saratoga Maple is All Natural, Grade A New York Maple Syrup and our Pint of Real Maple Syrup in a easy pour glass bottle is no exception.
Our pure maple syrup contains no additives, preservatives, or artificial flavors.
All the wholesome natural goodness that flows out of the tree is exactly what you get.
People often don't realize that maple syrup from New York is some of the finest in the world and we make sure that it stays that way! Our maple syrup pint glass bottles are known for keeping the syrup fresh and free from any tastes that might come from the container.  You can keep NY maple syrup in the fridge or freezer for years to come to be enjoyed when you want it!
Size: 1 pint / 16 fl. oz / 473 ml
Packaging: Glass Pint bottle with metal screw top
More choices of the best maple syrup from Saratoga Maple
How Much does a pint of maple syrup weigh?
The weight of a maple syrup pint is approximately 1 pound, 6.25 ounces before you add in the container.  With our glass pint bottle, it weights just under 2 pounds.
How Much Sap to make a pint of maple syrup?
It takes 5 gallons of raw maple sap to make 1 pint of syrup.  We condense the sap through traditional evaporation methods using a wood fired evaporator.