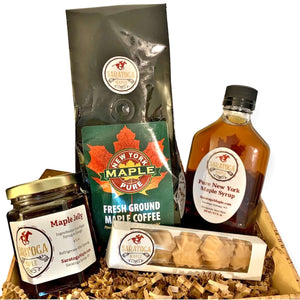 Coffee Gift Basket
The perfect gift for the coffee drinker on your list! Our gourmet coffee gift basket includes 12 ounces of fresh ground NY maple coffee, a 200mL flask of pure NY maple syrup, maple sugar candy, and an 8 oz jar of maple jelly.
When you are looking for a coffee themed gift basket, this unique one from Saratoga Maple fits the bill! Nothing goes better together than coffee with maple syrup and we make it easy to send coffee to someone!  Let them stock up the coffee bar after getting this coffee gift basket delivery. 
Best Coffee Gift Box
We might be a little biased but we are sure that our gift set is the best!  There is nothing like real maple syrup and when it is roasted directly into coffee, it makes for an aroma that will fill the house as it brews.  Whether you take it black or drop a maple candy into your mug, the maple flavor will bring a smile to anyone's face.  
Coffee Gifts Delivered
Whether you are looking for a local coffee gift set nearby or to ship it across the world, Saratoga Maple has you covered!  You can order our gift baskets for pickup, local delivery, or send it anywhere in the U.S.
If you are picking up or having your coffee gift baskets delivered, we will package the gift set as a gift basket.  If we are sending coffee gift out via mail or UPS, we protect the contents and make it look great packed with crinkle cuts. No matter how it gets to the coffee lover in your life, it will be a coffee present they won't soon forget!