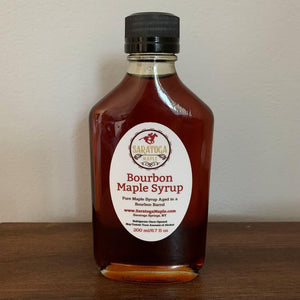 Bourbon Barrel Aged Maple Syrup from Saratoga Maple is made by aging it in a bourbon barrel.  As the months pass, the maple syrup takes on the bourbon and charred oak flavor and it turns into Bourbon Maple Syrup.  
Bourbon Syrup is great to use with salty and savory foods.  The sweetness compliments the fat and salt.  One of our favorite ways to use it is on a hamburger.  We mix the bourbon maple syrup with crushed red pepper and then use it as a glaze.  Bourbon Syrup works well as a glaze for many meats like ham, bacon, sausage, and even steak tips.  You'll be surprised at all the things you can make with Bourbon Barrel Maple Syrup and just how well it goes with everything. 
Our Bourbon Syrup may contain trace amounts of alcohol.
View all of our Bourbon Maple Syrup products and be sure to try our Bourbon Maple Cream for a spreadable alternative!
Bottled in a 200 mL (6.7 oz.) glass flask