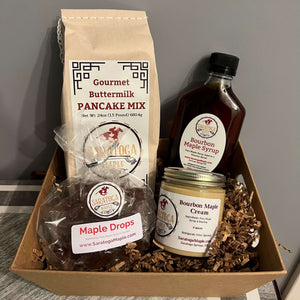 Our Version of a Bourbon Gift Basket
Need a great gift for the bourbon lover in on your list? Our unique bourbon maple gift basket is just what you need. It includes our best selling bourbon items: a 200mL glass flask of our barrel aged Bourbon Maple Syrup , a half pound of our Bourbon Maple Cream , a sack of maple drops hard candy and a 24oz bag of our gourmet buttermilk pancake mix .
How We Came Up with the Bourbon Basket Ideas
We craft our bourbon gift products by aging real maple syrup in a bourbon whiskey barrel. This allows the maple syrup to pick up the flavors from the barrel and gives it a smoky counteraction to the sweetness. Before we had official bourbon baskets, we offered bourbon basket ideas when people would contact us. In doing so, we thought we would get creative and start putting the pieces together for our extraordinary handmade bourbon gift special delivery. Once you order this item, get ready, everyone will tell you that you're an expert at finding something so personalized.
Why Try Bourbon Gift Baskets from Saratoga Maple?
Gourmet gift baskets are always a great gift! This Bourbon Maple Gift Set easily will have the recipient enjoying for years to come! For standard shipping, our basket is more like a bourbon maple gift box, packed to ship well and look great when opened. Gifts for men can be hard to find, but this one is a winner and will show your love as a Father's Day Gift, Christmas Gift or just when you need a perfect gift for dad. Don't forget to personalize a note on the checkout screen before you proceed to shipping.
If you need maple gift ideas , Saratoga Maple has you covered!