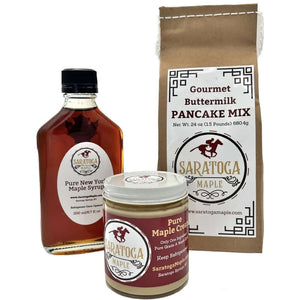 Breakfast Gift Set with Real Maple Syrup
Looking for a great activity to do with the family?  Just want a premium breakfast to remind you of all the great times spent in Saratoga Springs and the Adirondacks?  Our Saratoga Maple Breakfast Trifecta is the perfect mapley way to win at breakfast!
We've included a flask of our Pure, All Natural Saratoga Maple Syrup, a pack of our Saratoga Maple Gourmet Buttermilk Pancake Mix, and a half a pound of our velvety Saratoga Maple Cream.  
Included:  
-1.5 pounds of Saratoga Maple Gourmet Buttermilk Pancake Mix
-6.7 ounce glass flask of Saratoga Maple Syrup
-8 ounces of our Pure Saratoga Maple Cream